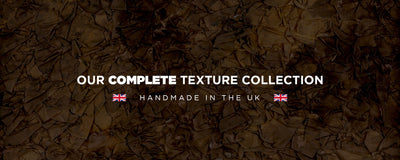 THE TEXTURE BUNDLE TO RULE THEM ALL!
🔥 For ONE WEEK ONLY we are offering our COMPLETE Texture Collection for our standard bundle price of $47 🔥
(Price reverts to $187, Sunday July 2nd, order today to avoid disappointment!)
Crafted (with LOVE) in the UK 🇬🇧
For the past 3 years we've been creating every texture we can imagine, at our studio in the UK!
The hand-made and mixed media textures in this bundle were created by natural media artist Ottie Knuvelder.
All assets were created and captured in-house, a true labour of love ❤️
Human (+ Dog) Powered! NO AI ❤️
Inject your work with the HUMAN touch...
Every asset in this bundle was hand-crafted by living beings. We're passionate about Art & Design, and this bundle is the culmination of 3 years fulltime production. A major family project – even the pets got involved!
(Pictured: Our studio assistant 'Pork Chop', helping out with the latest asset bundle.)
ULTIMATE TEXTURE (EVERYTHING!) BUNDLE INFO
This bundle is a BEAST!
If you purchase this bundle today, you get FREE updates for life 🔥

MIXED MEDIA (TOTAL: 2043)

SETS: 48

1. ABSTRACT ACRYLIC (11 ASSETS, 200MB)
2. ABSTRACT TISSUE (22 ASSETS, 531MB)
3. AGED PAPER (104 ASSETS, 1.7GB)
4. BLACK CRUMPLED PAPER (50 ASSETS, 560MB)
5. BLEACHED INKS (128 ASSETS, 1.7GB)
6. BLOOD JPG (67 ASSETS, 384MB)
7. BLOOD PNG (103 ASSETS, 2.1GB)
8. BROWN PAPER (46 ASSETS, 696MB)
9. BROWN TAPE (78 ASSETS, 1GB)
10. CRUMPLED PAPER (33 ASSETS, 321MB)
11. GLOSSY GRUNGE (36 ASSETS, 437MB)
12. GRUNGE BORDERS (23 ASSETS, 179MB)
13. GRUNGE DRIPS (2 ASSETS, 54MB)
14. HAND PAINTED (22 ASSETS, 303MB)
15. HAND PAINTED BACKDROPS (76 ASSETS, 1.2GB)
16. HAND PAINTED NOISE (19 ASSETS, 478MB)
17. INKS (39 ASSETS, 492MB)
18. LINO PRINT (107 ASSETS, 851MB)
19. MARBLED TEXTURES (27 ASSETS, 196MB)
20. MIXED MEDIA BOARDS (50 ASSETS, 526MB)
21. MIXED MEDIA COLLAGE (108 ASSETS, 1.9GB)
22. NEWSPRINT COLLAGE (29 ASSETS, 619MB)
23. PAINTED ARTBOARDS (31 ASSETS, 119MB)
24. PHOTOCOPY XEROX (38 ASSETS, 776MB)
25. SCRAPED PAINT (45 ASSETS, 755MB)
26. SCRAPED PLASTER (50 ASSETS, 512MB)
27. SPONGE GRUNGE (32 ASSETS, 342MB)
28. SPRAY PAINT BLACK (116 ASSETS, 722MB)
29. SPRAY PAINT WHITE (126 ASSETS, 1.3GB)
30. STAINED CARD (27 ASSETS, 292MB)
31. STAINED PAPER (107 ASSETS, 838MB)
32. STARFIELD NOISE (19 ASSETS, 271MB)
33. STYLISED BACKDROPS (17 ASSETS, 287MB)
34. TAPE TEXTURES (80 ASSETS, 385MB)
35. TISSUE PAPER (83 ASSETS, 1.4GB)
36. WATERCOLOUR BACKGROUNDS (62 ASSETS, 1.1GB)
37. WATER LEAKS (30 ASSETS, 262MB)

PHOTO STOCKS (TOTAL: 1557)

1. BARK (30 ASSETS, 707MB)
2. BRICK (98 ASSETS, 2.6GB)
3. CONCRETE (138 ASSETS, 4.2GB)
4. METAL (183 ASSETS, 4.2GB)
5. MOSS LICHEN (231 ASSETS, 6.1GB)
6. OCEAN GRUNGE (32 ASSETS, 878MB)
7. PLASTER (171 ASSETS, 4.2GB)
8. STONE (234 ASSETS, 6.4GB)
9. URBAN DECAY (120 ASSETS, 2.9GB)
10. URBAN PAINT (190 ASSETS, 4.6GB)
11. WOOD (130 ASSETS, 3.1GB)
BUNDLE TOTAL: 3600 ASSETS